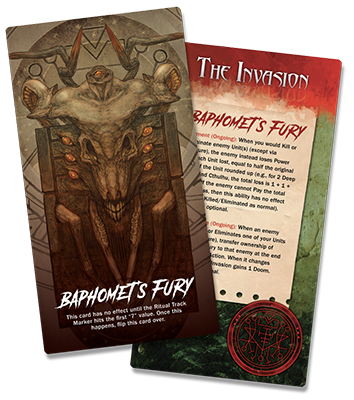 Note:
This card has no effect until the Ritual Track Marker hits the first 7 value. Once this happens, flip this card over.
Torment (Ongoing): When you would Kill or Eliminate enemy Unit(s) (except via Capture), the enemy instead loses Power for each Unit lost, equal to half the original cost of the Unit rounded up (e.g., for 2 Deep Ones and Cthulhu, the total loss is 1 + 1 + 5 = 7). If the enemy cannot Pay the total Power loss, then this ability has no effect (they are Killed/Eliminated as normal). This is not optional.
Transference (Ongoing): When an enemy Faction Kills or Eliminates one of your Units (not via Capture), transfer ownership of Baphomet's Fury to that enemy at the end of the current Action. When it changes ownership, The Invasion gains 1 Doom. This is not optional.